Tag der offene Tür / Open Studios
Kunst ist zu sehen von Ria Penders,Christine Ludwigs, H.J. Hack, K.P. Kremer, Ines und Christoph Hasenburg, Karl-Heinz Löbach, Karin Dombusch, Karin Lurch, Annette Preiß, und Alexandra Bosbeer.
Am 17. und 18.Juni können Sie die Künster und Künstlerinnen besuchen in Ihren Ateliers in Siegburg.
/Visit the artists in their Siegburg studios on 17 and 18 June.
Sie laden Ihnen ein am 17.06 ab 15Uhr bis 20Uhr und Sonntag 18.06 ab 11Uhr bis 18Uhr. Der Bürgermeister Siegburgs Franz Huhn eröffnet die 'Tage der offene Ateliers' am Samstag 17.Juni um 15Uhr.
/You are invited on 17 June between 3pm and 8pm, and on Sunday 18 June between 11am and 6pm. The Mayor of Siegburg, Franz Huhn, will officially open the 'Days of open studios' on the Saturday, 17 June, at 3pm.
Die Ateliers sind zu finden am Hohlweg 40 in Siegburg.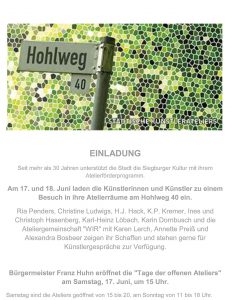 Hier finden Sie eine Karte mit dem Standort. / The studios are located at Hohlweg 40 in Siegburg. Here is a map showing the location of Hohlweg 40, less than 30 minutes by foot from the train station.
Sie sind herzlich willkommen! / you are very welcome to visit!